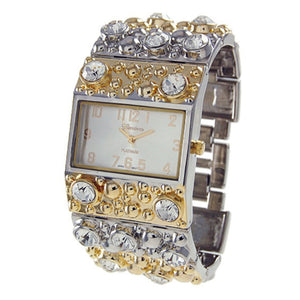 Ratio Bangle Watch
Sale price Price $125.00 Regular price
Ice Swarovski Crystal Watch is Fly and Elegant Dressy Formal Timepiece with it's Icing.  You can also take this fabulous Timepiece and give a glamorous look to casual wear. 
Flexing Swag
What is the difference between a Timepiece and a Watch?  Technically nothing; they are the same.  If you're speaking from the creatively, the difference is a Time Piece is Exquisite and a Work of Art and Watch is just Utility.
You know what they say, the Devil is in the Details!
Ice Swarovski Crystal Watch Features:
Metal Case Combination is Gold and Silver
Case Size 36mm 
Case Embellished with Large Swarovski Crystals
Lug Bezel is Swarovski Crystals & Metal
Dial Face Pave Swarovski Crystals
Hands are hours and minutes
Secure Metal Buckle
Metal Crown