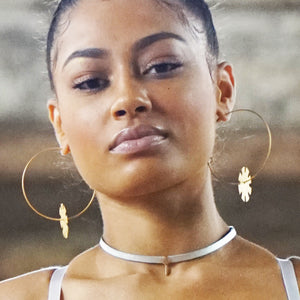 Nouveau Bohemian Cuir Silver Leather and Rose Gold Choker
Sale price Price $55.00 Regular price
Nouveau Bohemian Cuir Silver Leather and Rose Gold Choker
Nouveau French Translation is New and Bohemian meaning is when a movement of artist and poets in late 19th century France, especially in Paris. Bohemians believed in living outside of the bourgeois (conventional, middle class) mainstream culture. Bohemians were against the Salon (the institution that controlled the literary and art market in France until the turn of the 20th century)and believed that art and literature should be radical. 
Nouveau Bohemian Meaning and Origins
The Nouveau Bohemian harmonizes elements of traditional Bohemian ideology with contemporary culture without losing sight of the basic tenets—the glamour, art, and nonconformity. While Nouveau's may suffer poetically, artistically, and romantically, they have what appears to be, at first, one advantage over other Bohemians—the Nouveau has money.
And the world Cuir is French for leather.
Choker Silver Leather
Rose Gold Pendant
Embellished Cubic Zirconia Pendant