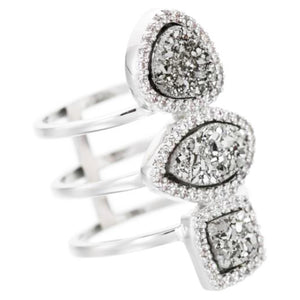 Nero Glitterati Titanium Druzy Ring
Sale price Price $225.00 Regular price
The Illume Illuminati Ring designed by fine jewelry Artisan, Marcia Moran is dazzling and iridescent.  The word Illume definition is to illuminate and bring light 
Titanium Druzy Rhodium Ring
Titanium druzy is agate druzy that has been coated with titanium. It produces a permanent metal coating in spectacular shades of bright, dark blue or an iridescent white. Druzy is the glittering effect that the formation of tiny crystals over top a colorful mineral create.
Titanium Druzy Healing Meanings
The Druzy Quartz Crystal stone is known to relieve stress, purify and amplify the bodies own natural healing properties that strengthens the spirit. It's believed to create balance to avoid depression and other feelings of fear or dread.
Nero and Glitterati Meaning
The word Illume definition is to illuminate and bring light and historically the name Illuminati refers to the Bavarian Illuminati. Illuminati actual meaning possesses a special enlightenment or knowledge with mystery or having an enigma.
Nero Glitterati Ring Features:
Three Organic Titanium Druzy Quartz Stones
Rhodium
Cubic Zirconia Surrounding Stones
Fits sizes 7
1.25" tall
Triple Band
Corrosion and Tarnish Resistant 
100% Hypoallergenic