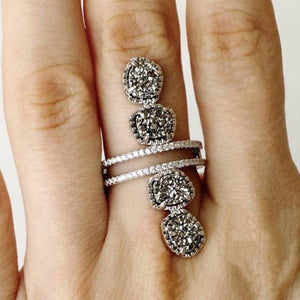 Moon Shine Sparkling Titanium Druzy Stones Ring
Sale price Price $200.00 Regular price
Titanium Druzy Crystal and Silver Ring
Druzy crystal is a configuration of many tiny sparkling crystals on the surface of a bulky crystalline body. This type usually grows over another matrix, but it may or may not be in contact the matrix afterward.For example, Druzy Quartz can grow over agate or any other colored matrix. But building this crystalline form is not only a feature of Quartz. Minerals like calcite, malachite, dolomite, and garnet are also found as Druzy stones.
In their natural form the color of Druzy stones can vary from almost transparent, to translucent and opaque. Sometimes they are coated with vapors made of metallic origin, which may give them strong iridescence.
Ensconce Sparkling Druzy Stones yourself in luxury with this dazzling multi stone ring. Silver Rhodium adjustable ring with connected cubic zirconia pave bands and four organic shaped stones. 
Druzy Quartz Meaning:
Some folks think by wearing Druzy gemstones is believed to promote relaxation and stress relief. People use it to connect more easily with their own inherent healing powers. Druzy Quartz is also thought to help the immune and reproductive systems.
Moonshine Sparkling Druzy Stones Ring Features:
Four Stones

Titanium Quartz Mineral Gemstone with 

90% Purity
Druzy Sparkeling Crystals

Silver Gray Metallic Element

Rodium RH Plated

Corrosion Resistant Inside Adjustable Sizer Band
Double Size CZ Band
100% Hypoallergenic
Corrosion Resistant does not tarnish
Fits sizes 6-8. Ring measures 1.5" at longest point.