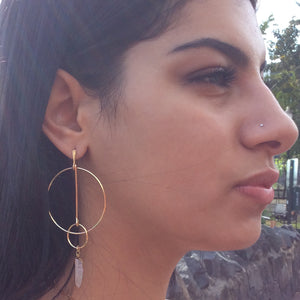 Enchanted Clear Crystal Quartz Double Hoop 16 Karat Earrings
Sale price Price $75.00 Regular price
Enchanted Crystal Earrings is beautifully crafted with double hoops and Clear Quartz Crystals from Baddest Bish Ever! Fine Jewelry Dreamy Dreams Collection.
Meaning of Clear Quartz Crystals
Clear Quartz is known as the "master healer" and will amplify energy and thought, as well as the effect of other crystals. It absorbs, stores, releases and regulates energy.  Clear quartz is highly prized for its ability to clear the mind of negativity to enhance higher spiritual receptiveness.
Enchanted Crystal Earrings Features:
Clear Quartz Crystal
16 Karat Gold Plated
Double Hoops both in Medium Size and Small Size