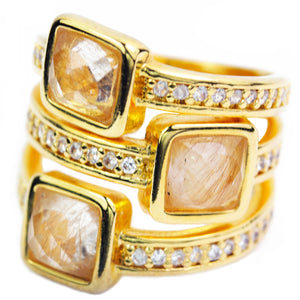 Wild Shen Rutilated Quartz 18 Karat Gold Ring
Sale price Price $225.00 Regular price
Wild Shen Rutilated Quartz 18 Karat Gold Ring 
Meaning of Shen Ring
In ancient Egypt a shen ring was a circle with a line tangent to it, represented in hieroglyphs as a stylised loop of a rope. The word shen itself means, in ancient Egyptian, encircle, while the shen ring represented eternal protection.
Rutilated Quartz Meaning:
Rutilated Quartz crystal meaning is associated with its powerful cleansing and purifying effects. It's an illuminator for the soul, promoting spiritual growth. It cleanses and energises the aura. Draws off negative energy and disease, letting go of the past. Rutilated Quartz gives protection against the ill thoughts of others.
Origins
Rutilated Quartz is found in Australia, Brazil, Kazakhstan, Madagascar, Norway, Pakistan and the United States.
Wild Shen Rutilated Quartz 18 Karat Gold Ring Features:
Three Rutilated Quartz 
18 Karat Gold Plated
Rodium RH Plated
Corrosion Resistant Inside Adjustable Sizer Band
Triple Cubic Zirconia Pave Bands
Measures 1.00" at longest point
100% Hypoallergenic
Corrosion Resistant does not tarnish
Artisanal Made by Marcia Moran
Size 6