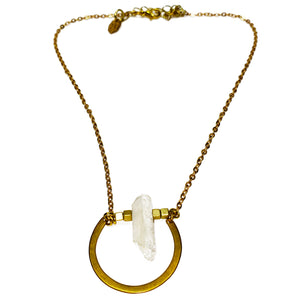 Canadian Clearly Angel Aura Quartz 18 Karat Gold Choker
Sale price Price $160.00 Regular price
Canadian Clearly Choker is sexy and fly.
Angel Aura Quarts Meaning
The Angel Aura Quartz possesses a sweet and loving energy that will effectively stimulate and elevate your mood.This crystal is also often called Pearl Aura, Opal Aura, and Rainbow Aura.  Angel Aura Quartz is a very tranquil and peaceful crystal. it has very high levels of spiritual energies that will be very beneficial to your aura.
Canadian Clearly Choker Features:
Angel Aura Quartz
18 Karat Gold Plated Chain
Antiqued Brass Charm
Lobster Clasp
Nickel Free
Hypoallergenic
Artisanal Handmade by Jewelry Designer in Florida